Wheeling Suspension Bridge 170th Birthday Celebration and Fireworks
June 22 @ 9:00 am

-

10:00 pm


Wheeling Heritage Port

Wheeling Suspension Bridge 170th Birthday Celebration and Fireworks
June 22 @ 9:00 am

-

10:00 pm
Sponsored in part by the Wheeling Arts and Cultural Commission
---
Announcement
The heavy rain over the past few days has impacted the Ohio River's water level and current. For safety reasons we regret that we are compelled to cancel the Gateway Clipper excursions and fireworks cruise. We are working to choose another date for the river boat to come to Wheeling.
If you purchased tickets for an excursion or for the fireworks cruise with a credit card, your charge will be credited to your account. If you purchased tickets with cash you can obtain a refund at the WesBanco Arena box office, which will be open on Saturday, the 22nd.
All other events celebrating the Wheeling Suspension Bridge will be held on Saturday. Please join us for the Ohio Valley Rib and Chicken Cook-off, Plein Air Painting Party, Story Telling, live music and fireworks at 9:30.
---
Celebrating its completion in 1849, Wheeling's iconic Suspension Bridge is 170 years old! A day-long anniversary observance will be held at Heritage Port.
9:00 to dusk: Plein Air Painting Party
Noon to 11:30: Ohio Valley Chicken and Rib Cook-Off with live music (June 21 & 22)
Storytelling about the Bridge:
12:00     Meet Charles Ellet, Jr., Designer of the Bridge portrayed by Travis Henline, Museum Project Manager, Wheeling Heritage
1:00     "The State of Pennsylvania vs. the Wheeling & Belmont Bridge Company:The Lawsuit to Tear Down the Bridge" presented by C.J. Kaiser, partner, Phillips, Gardill, Kaiser and Altmeyer
2:00     "Collapse of the Bridge in the Great Storm of 1854" by Story Teller Rich Knoblich
3:00     "An Engineering Marvel" by Christina Schessler, Senior Architect, McKinley Architecture and Engineering
4:00     "Builders of the Bridge: The Wheeling and Belmont Bridge Company" by Jay Frey, chairman, Wheeling 250
5:00       Live music
9:30: Fireworks display
Free Coloring Page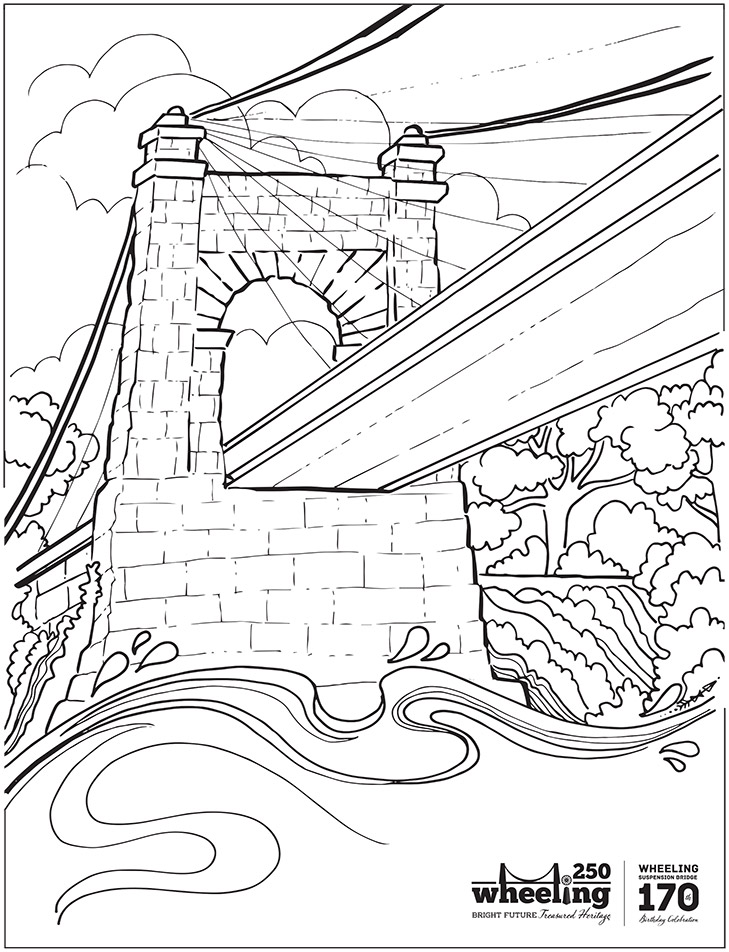 Click here to download and print your free commemorative Wheeling Suspension Bridge Coloring Page! Free copies will also be available at the Plein Air tent on Saturday.